The
Performance in Education

Special Interest Group

The mission of the Performance In Education SIG (formerly the Speech, Drama, and Debate SIG) is to provide a forum for teachers and academics to discuss, research, and implement oral interpretation, speech, debate, drama and other forms of performance in language education. The main activities are the publication of a newsletter and the Mask & Gavel journal, as well as sponsoring conferences and workshops. including annual conferences in Okinawa and Sapporo. Other activities have included supporting chapter events and running local, regional, and national speech contests.

In the beginning, we created events by ourselves, which established our SIG as a vibrant entity. We started collaborative ventures by providing speakers to chapters upon request (Tokyo, Fukui, Fukuoka, Gifu, Nagoya, Okayama, Hiroshima, etc.). Many of these collaborations grew into co-sponsoring whole conferences, which we have done several times with Yokohama Chapter since 2015, Okinawa Chapter since 2015, and Hokkaido Chapter since 2019. Ever-evolving, these conferences have become annual. We have also collaborated with other SIGs, such as the LLL SIG, the BRAIN SIG, and the Critical Thinking SIG. We do these projects to tap into the regional bases which attract many participants, but we also enjoy the synergy that comes from working with new colleagues with different skill sets.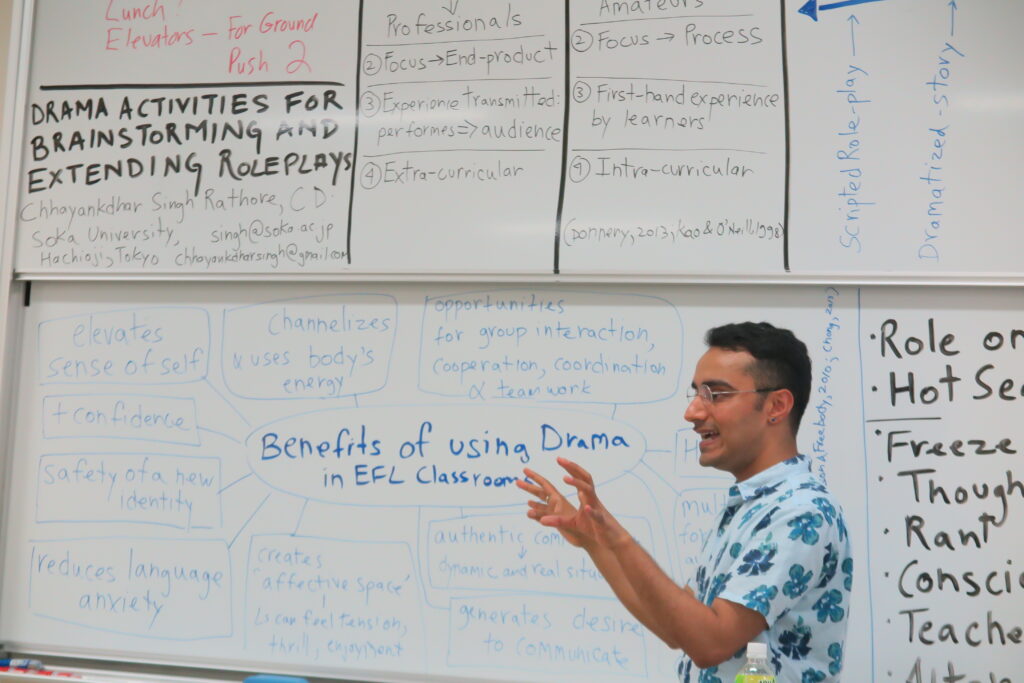 ---
What we are
"INTRODUCING, for Your Enlightenment and Entertainment, . . . The Performance in Education SIG!"
(Drumroll and trumpet fanfare)
A little too dramatic? Yes, well, that's who we are. Who are we, you ask?
We are Dramatic.
One focus of the SIG is drama, and many members have theatre backgrounds or an interest in theatre. Yes, we do put on plays, radio dramas, and readers theatre productions in our schools, but we also incorporate into our classes, roleplays, simulations, theatre games, improv activities, and process drama techniques. Never heard of process drama? It can enhance EFL classes in many ways. Ask one of our members to explain it to you personally or at a chapter meeting.
We are Creative.
It is amazing how many creative, artistic people we meet whenever we gather together. If there were a group equivalent to Mensa for creative people, we would be a chapter of that group.
We are Flamboyant.
Not all of us, but a great many of us dress in flamboyant colors (guilty as charged) and talk and gesture dramatically. We can't help it. It is like we are living in the "Bohemian Rhapsody" world. That is also how we teach. Students are not bored in our classes!
We are Argumentative.
Debate is another focus of the SIG and it is interesting how many of the flamboyant, dramatic people are also the debate people. Formal debate teaches important critical thinking and public speaking skills, but it is also exciting and fun, and the way we teach it is fun, yet challenging. Students are not bored in these classes, either.
We are Orators.
We teach speech and presentation, and we are unusually good orators. At SIG forums at PanSIG or the JALT international conference, I am amazed at the consistently excellent quality of speakers in the SIG.
We are Serious Professionals.
In addition to being good teachers, we also write articles, textbooks, and performance pieces, we conduct research, we go to great lengths to mentor the younger members, we volunteer in the JALT organization, and we make it a point to go to conferences to spread the word about the value of performance in the learning process.
---
What we do
Organizationally speaking, we are a relatively young SIG, officially founded in 2012. We are also a small SIG with membership hovering in the low to mid-70s. However, we are also a very active SIG. Our main activities are:
Publication Producer
Mask & Gavel is our official peer-reviewed journal that comes out once a year. And the PIE SIG Classroom Resources Journal, which is a collection of My Share-type articles, comes out whenever we accumulate a sufficient number of articles.
News Station
Current news about events relevant to our SIG or involving SIG members is announced to members and interested people on our social media.
Event Producer
In our first year, we produced our biggest event when we co-sponsored with Oxford University Press to bring Carolyn Graham (of Jazz Chants fame) and Ken Wilson (improv and Smart Choice) to Nagoya. We have co-sponsored with OUP to have Ken Wilson present at our events four times in the last seven years. The last time was at the 2016 JALT international conference in Nagoya when Ken did a presentation for us. Afterwards, we co-sponsored the OUP party with our coordinator singing bossa nova along with a few back singers/dancers provided by the SIG.
Presentation Agent
We have been asked to provide presenters at several JALT chapters and have even produced one-day mini-conferences for chapters. Please contact us if you are interested in presenting at or sponsoring a PIE SIG/chapter mini-conference.
Conference Sponsor
Every year we sponsor our own conference(s). They have been member-friendly—our 2018 Travelling Conference set up the big tent in the Kansai, Tokai, and Kanto areas to bring the conference to members who do not have institutional financial support to travel to conferences. Conferences have been held in interesting venues: for three years we have had conferences in Okinawa, our second home, and in 2019 and 2020 we held a conference in Sapporo. We actively welcome students (high school and university) to attend free of charge, give presentations, and participate in performances. And these have been family-friendly conferences—held in interesting locations that families would like to travel to and family members have been welcome at our banquets and cultural events. In 2019 our most ambitious conference was held in Nagoya (June 15-17). The title and theme was Performance in Education: Research & Practice, and the plenary speakers were Dr. Rod Ellis and our own Dr. Vivian Bussinguer-Khavari.
Club
Although a small SIG, our networking dinners sometimes feature close to half of our total membership! These events are serious, loud, raucous, humorous, and most of all, a family gathering. Both Apollo and Dionysus are members of our SIG.
---
PIE SIG Officers (2023)
Coordinator: David Kluge
Publicity Chair: Max Diaz
Publications Chair: Philip Head, Brian Gallagher
Membership Chair: Samuel Nfor
Program Chair: Vivian Bussinguer-Khavari
Treasurer: James Higa
Conferences Chair: David Kluge
Advisory Officers
Assistant Coordinators: Brian Gallagher, Darren Kinsman
IT Coordinator & Website Administrator: Max Diaz
Assistant Publications Chair: Darren Kinsman
Assistant Publicity Chair: *Please contact us if you're interested in filling this position*
Assistant Program Chairs: Chhayankdhar Singh Rathore, Brian Gallagher, Yukari Saiki
Japanese Liaison Officer: Yukari Saiki
AET Liaison: Mei Ataka
Debate Chair: David Kluge
Speech Chair: *Please contact us if you're interested in filling this position*
Oral Interpretation Chair: David Kluge
Music Chair: Kim Rockell
Social Chair: *Please contact us if you're interested in filling this position*
Drama Chair: *Please contact us if you're interested in filling this position*
Research & Resources Database: Dawn Kobayashi, Vivian Bussinguer-Khavari, James Carpenter, Max Diaz